… and triathletes and all your fitness lovin' friends!
The focus is on unique items from more independent or up and coming brands.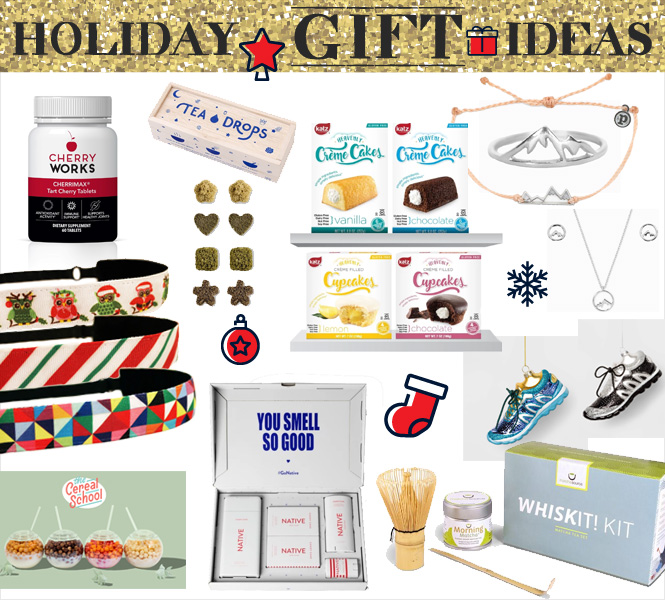 MaviBandz: Adjustable, non-slip headbands that stay in place. SO many great prints — including seasonal ones for those upcoming holiday races. Use promo code MAVI15 for 15% off your entire order!
Cherry Works: Many of us, particularly athletes, are aware of the benefits of cherry juice — helps with inflammation, aids in sleep, supports healthy joints… but some may find it just a bit too tart to drink. Enter CherriMax Tart Cherry Tablets – all the goodness in easy to take supplement form. They also have juices as well.
Native Deodorant: We crave a good sweat everyday which means a reliable deodorant is essential. Native is free of aluminum, parabens and sulfates while also proving to be incredibly effective. They carry other personal care products as wekk and these sets would make a practical (but yet lovely) gift.
Tea Drops: Organic, pressed teas made with actual leaves that dissolve in hot water. No more tea bags or brewing. Bonuses: their packaging is stunning and with every purchase, clean water is donated to The Thirst Project. Gifting top picks: Assortment Box (swooning over that keepsake box), Wellness Kit and the Ultimate Sampler Kit.
Pura Vida: How perfect are these for the ultrarunners, hikers and adventurers in your life? They've got other sweet jewelry, too, and love that the pieces are handcrafted by artisans in often struggling communities.
Katz Bake Shoppe: OMG, "healthified" Ding-Dong's and Twinkies? 'Cuz sometimes, after, say a long run, you just want something decadent. These are gluten-free, dairy-free, nut-free, soy-free and heavenly!
Running Shoe Glass Ornament: Running (glittery!) shoe ornaments with real laces? YES! Also comes in a black and white colorway. 🙂
The Cereal School: Breakfast of champions for your Champion. 🙂 Much loved childhood cereals reinvented – high protein, ZERO sugar and gluten/grain free? Gotta taste it to believe it.
Matcha Source Whiskit! Kit: Matcha has been known to be an antioxidant powerhouse as well as boosting energy levels. One recent study even discovered that matcha improved physical endurance by 24%. Gift friends this set that includes everything to get them started to frothy matcha.