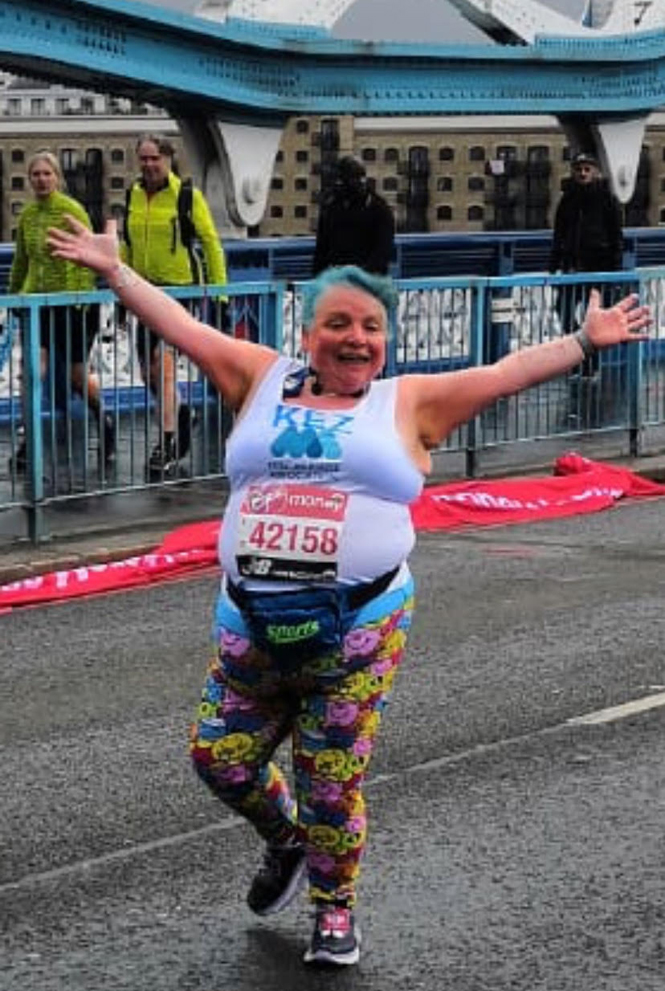 Why did you sign up to do this race?
I have always watched the London Marathon growing up and loved watching on TV the charity runners and hear their stories. I always secretly thought I'd love to do that but it was always a bit lie in the sky – hell, I couldn't run for a bus.
Then on New Years Day 2018, I woke up unhappy and knew something needed to change. I found a plus size Bootcamp and running group and never looked back. I found a love for running.
My mate ran Virgin London Marathon (VLM) in 2018 and came back full of amazing stories and it ignited a desire on my belly to do it. 2019 being my year – as I turn 40 in August – I also decided to run for a charity close to my heart and to show my little boy that if you reach for the stars you can do anything.
How did you feel once you crossed the finish line?
So many emotions all came to the surface – but mainly relief that I had finished. I also suddenly felt very cold and tired, lol.
But the best bit was my little boy who came running up with his arms wide open, flung them 'round me and told me he loved me just the way I am – for that one moment, the 26.2 miles were totally worth it.
What would you say was the hardest challenge in this race?
Being a back of the pack runner I was perhaps naive and didn't realise I wouldn't get the experience you see on telly. No crowds and wall of sound at Tower Bridge, no water stations for about half the run… no mile markers left and having to ask marshalls the way.
But the tightest part was knowing that my family were out along the course with no means to track me. My family and friends at home supporting me would not know I was okay or where I was.
I felt alone for a large part of the run and embarrassed and ashamed. My little boy saw me at Canary Wharf and told me I should run faster and I kept crying and saying I was sorry. However, my rock – my hubby – had faith in me and knew I would do it.
What was the most rewarding thing about completing this run?
I had no idea at the time the impact that my run as a short ass plus size Mummy with little legs would have. I had posted a video on FB at Tower Bridge for my friends and family as I had just received a message saying people were worried about me and they couldn't track me. I had no idea what I had started with that video which I later learned went viral.
Since finishing London, I have had messages from all over the world from people saying I inspire them (this is something I find quite uncomfortable with, to be honest) but people have also thanked me for being open about miscarriage and raising awareness. I have also managed to raise just over £13,000 with gift aid for the amazing Miscarriage Association which I am so thankful for.
To me, running the London Marathon was about far more then just running. It was a whole journey about accepting my miscarriages and about publicly saying I am a Mummy of 6. Miscarriage is such a taboo subject and something I never spoke about until I signed up for London.
But the most rewarding thing was that I didn't give up, I never once thought about stopping. I saw a lady at about 17 miles who saw who I was running for. She hugged me and we both cried. She made me promise that I would finish for her three angels – and I did. I completed London for all angel babies.
But ultimately I did it for me to show I can and I did it for my little boy as part of a get fit journey so he can have the bestest Mummy he can.
Was there anything or anyone in particular that helped you throughout your training?
Music played a big part in my training – I spent ages picking songs with great tunes and kick ass lyrics.
I also thought a lot about both my parents who had sadly passed away and wanting to make them proud.
When the training got tough, I remembered why I started the journey and all the time I thought about my 5 angels and my rainbow.
Any final words of encouragement and thoughts you'd like to share?
When I started running it took me a year to venture to Park Run as I thought real runners would see me as a fraud. But how wrong was I. The running community was fully accepting and supportive. I was also worried about coming in last and what people would think of me. But then I just started to focus on how free I felt running and the amazing feeling I felt after. I realised that by lacing up my trainers and getting out there I was a real runner.
The best thing that happened to me was waking up on that New Years Day 2018 feeling unhappy and seeing the ad for that plus size running group.
My VLM experience will stay with me forever and when I look back I only see the positives. As I tell my little boy, reach for the stars and anything is possible.
Lace up those trainers. The hardest step is that first step but if I can …. you can.
Follow Kerrie's running journey on her FB page: Kez's Great Big Marathon Journey