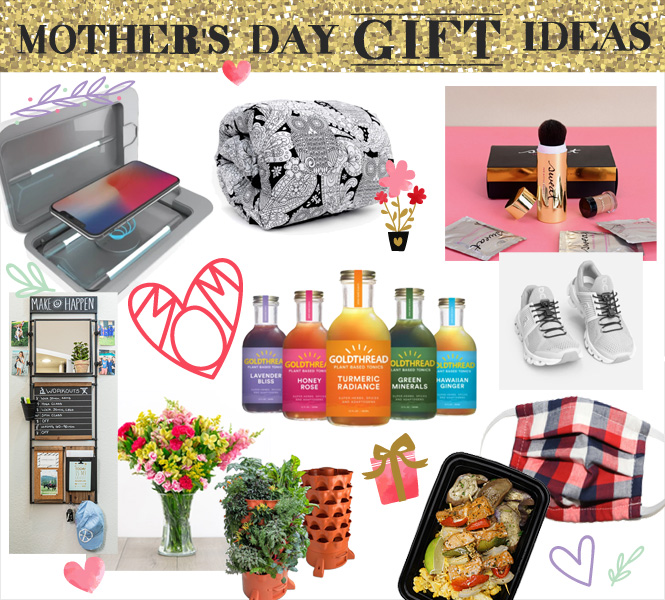 We may still be in quarantine but it's not too early to start thinking about some gifts for Mother's Day. Here's to all the moms out there who are working, homeschooling, cooking, cleaning… and still running. 🙂
Xpand No-Tie Shoelaces: Do you worry about your laces coming undone on a run or worse — during a race? What if we said that you'd never have to tie your shoelaces again? With one size fits all, plenty of color options, kiddos and spouses may want a set, too.
Sweat Cosmetics: Founded by female professional athletes who set out to create cosmetics that are effective, sweat/water resistant, kind to your skin and include sun protection, this line will be much appreciated by active women who are always on the go. The bundles will make a nice (and pretty) gift.
1Thrive Wall Organizers: We all want to be thriving over just surviving through these uncertain times, right? These well thought out, interchangeable and stylish wall organizers will bring organization to another level at home, especially as we juggle multiple responsibilities.
Mosaic Weighted Blanks: Runners and athletes are well aware that sleep is so important for recovery as well as the immune system. Some studies also show that weighted blankets may aid in reducing stress and anxiety. Mosaic offers quality, highly rated weighted blankets in a variety of colors and prints. Mosaic is also now producing washable, reusable cloth masks in unique fabrics. All of their products are also consciously made in the USA!
Garden Tower Project: Has Mom started or been gardening? Imagine being able to grow 50 plants, flowers and vegetables in four square feet with no weeding required and the ability to compost + garden together. The Garden Tower Plant Composting Container Garden provides a simple solution to lovely flora and fresh, organic vegetables.
Goldthread Tonics: Possibly a better alternative to alcohol for the runner, active mom? 🙂 Give mom a refreshing tonic drink of brewed super-herbs, spices and adaptogens that will invigorate body, mind and soul. Currently available in 11 specially formulated flavors, get a 6-pack delivered (free shipping!) to mom.
More meals at home means a little help in the kitchen may be just what mama needs. Give the gift of a meal delivery service such as: Snap Kitchen (now offering $60 off first 3 weeks with code GET60), Jet Fuel Meals (offers 5 different meal plans including an "Athletic" one!), Personal Chef To Go and HomeBistro. For plant-based meals, you can try: Mosaic Foods and Vegin' Out. The Dinner Daily presents an innovative model where they take your local grocery store's sales flyer and come up with a customized meal plan based on the sales — saving you money and time on meal planning.
And finally, there's the tried and true — flowers. If you really get in a pinch, Overnight Flowers creates made-to-order bouquets with lightning fast, next business day delivery. For 30% off + free vase, greens and next day delivery on your first purchase, use code WELCOME30. And if Mom really loves flowers, Bloomsybox can deliver a hand-picked bouquet to her every month — a reminder of your love and appreciation all year long. Use BLOOMSA5 to get $5 off your first monthly subscription.