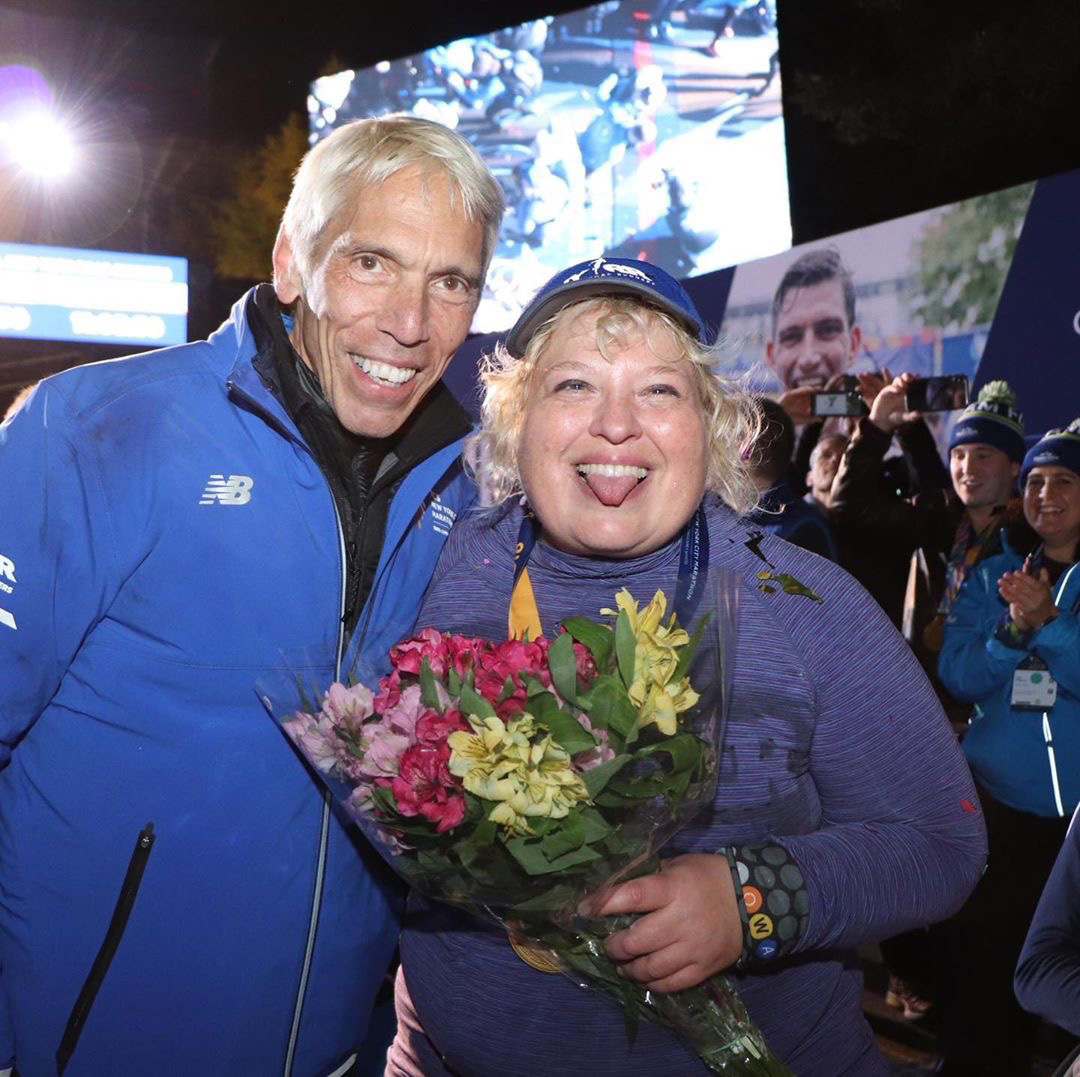 PC: New York Road Runners
Why did you sign up to do this race?
I signed for the 2018 TCS NYC Marathon after volunteering for 5 years at the finish line. I had qualified for the marathon all five years by completing the 9+1 program but finally got the courage to do it myself. I knew I was not getting any younger (56) and I realized that if I "waited" until I lost weight before I did it that I may never do it. I decided that I would first train for it and if ready by November, do it.
How did you feel once you crossed the finish line?
It is still surreal, like a movie. There was a huge crowd of people, friends, my family (surprised me), and so many people who ran the race earlier and came back! I was escorted through a cheer tunnel holding the Race Director Peter Ciaccia's hand. I was his final finisher for his final marathon as Race Director.
What would you say was the hardest challenge in this race?
The hardest part was the internal struggle in my head during the race. I knew that the course would be empty for most of the way and even though I prepared for it in training, it was still hard. So many friends came out to cheer me throughout the course, which really made me feel blessed. I got pep talks that helped me remember why I was doing this and do the race my way. Laughter, tears and then getting back to the business of completing each mile, one at a time, was how I did it.
What was the most rewarding thing about completing this event?
I think finishing a marathon makes you look at life differently. I feel like now I can do almost anything that is hard. I also feel like I completed my "Runner's Master's Degree". I had done 5 half marathons, over 100 road races, volunteered and been a race director for our Open Run program and photographed races. The Marathon was my thesis in my mind. The final test.
Was there anything or anyone in particular that helped you throughout your training?
It took a village to get me there. My team, November Project, was there all year long cheering for me at our workouts, races and giving me advice. I trained with the NYC Galloway team as my running partners and finished with my running partner Ruth.
Any final words of encouragement and thoughts you'd like to share?
I feel like if I can do it, so can you! Maybe it's not a marathon you want to do. It doesn't have to be. Find a finish that you want to get to by first having the courage to do so, being your own best encourager/cheerleader. Also, find a running community that fits you and supports you in your journey. Then, go and have fun doing it!