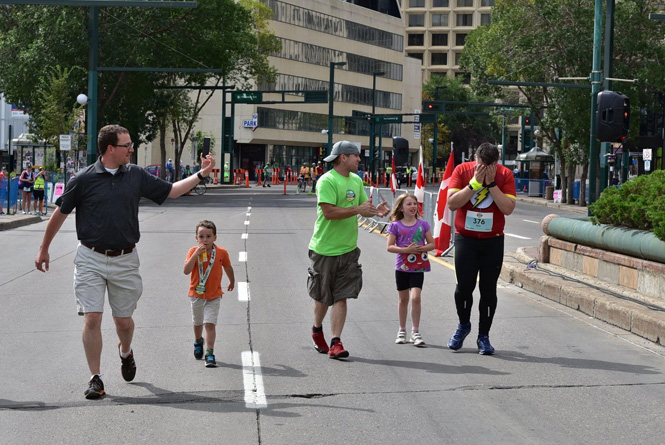 PC: marathon-photos.com
Why did you sign up to do this race?
It's a bit of a long story as my running journey started with a health scare. Being a Canadian living in West Yorkshire 18st (stone) in weight, it was bound to happen as I had a sedentary life style. Over the years, my running distances evolved from 1 mile to 5K parkruns to 10K's to half marathons and then the ultimate distance of a marathon. I entered the 2016 Manchester Marathon and was stopped at 20 miles for running too slow, so I thought my marathon dream was done.
However due to all the planets aligning, I had the opportunity during a visit in my home country to run the Edmonton Marathon, to see if I could actually do the distance. That is where I met my running angel, Rene. I finished dead last, but I would not have had it any other way. I went on to do a 50K ultra, coming last, again. I am told my journey has inspired others and I was told to write it down. So, I did in a book called Just Finish! Don't Think You Can, KNOW You Can that will be out soon.
The short answer to the reason I signed up to do this race is redemption.
How did you feel once you crossed the finish line?
Ironically, I need to thank the marshal who stopped me in the Manchester Marathon, because if I did finish Manchester, I probably would not have entered Edmonton Marathon. Finishing the Edmonton Marathon was an achievement in itself, but having your entire family at the finish took the feeling to a whole new level. I was overwelled with emotion at the finish: relief, shock, exhaustion, and humbled as a perfect stranger did the kindest most selfless thing anyone could ever do: run with me and provide me with positive commentary for 4 hours.
What would you say was the hardest challenge in this race?
Finishing this race became a perfect moment in my life and has changed me forever. To answer what was the hardest challenge of the race, I have to be more reflective. What I mean is, I met a running angel in Rene and I had no doubt I would finish. Actually, that's not true, Rene had no doubt I would finish. I had doubts, which was probably the hardest thing. I say reflective because, to this day I always ask myself, would I have finished if Rene had not been there on that day? Trying to get my head around that is probably the hardest challenge for me.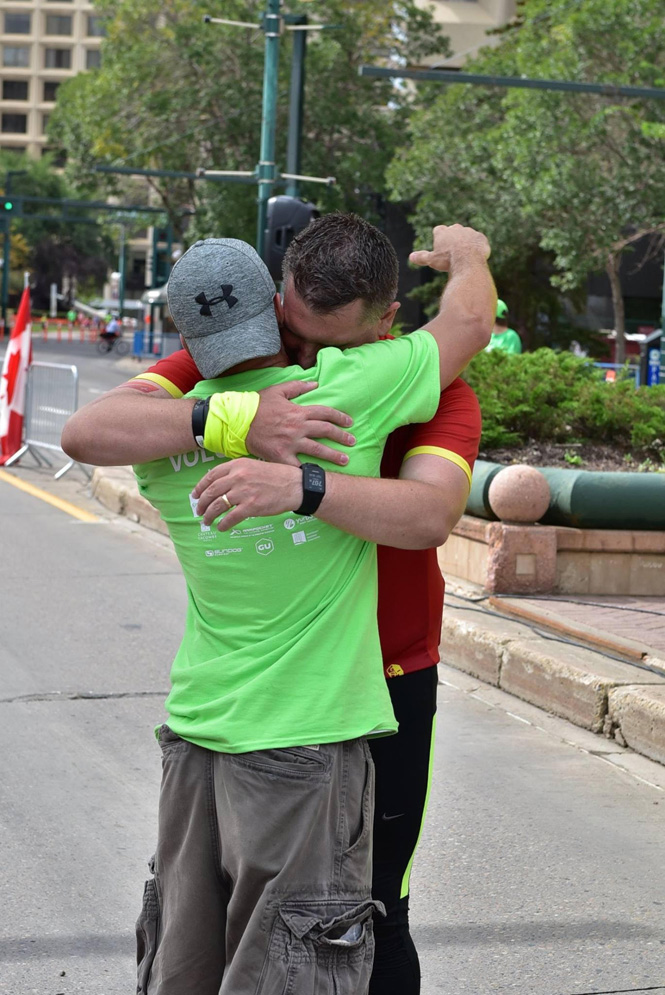 PC: marathon-photos.com
What was the most rewarding thing about completing this event?
Joining the 1% club and calling myself a marathoner. I am told only 1% of the population have ever run a marathon, so that's a cool club to be a part of.
Was there anything or anyone in particular that helped you throughout your training?
Of course, my wife and 2 kids are important and helped me through the hours of training. They are the life blood of my running journey and the occasional literal kick out the door for me to get my run in always helped.
Any final words of encouragement and thoughts you'd like to share?
"It is very much a cliché to say, but if you really set your mind on something, you can achieve anything. I never set my mind on achieving a specific finishing time for races; that, to me, was never really that important. I would set my mind on the challenge itself and it was that specific challenge ahead that drove me. With every single race or challenge I attempted, my only goal was to finish, and it was that visualisation of me finishing that allowed me to overcome all the obstacles. With running, I achieved the impossible and I know I will achieve more in the future. I am proud of myself for my achievements, but I didn't do it alone.
At the end of the day, just knowing I have run an ultra and a marathon has given me quiet confidence in other areas of my life. My running life has truly made my non-running life more fun, less stressful, and clear. It is this clarity that has enabled me to be mindful of what is important to me: family, friends, a positive work life balance, and an overall sense of well-being.
Feeling better in your skin should be the ultimate goal when you go on your own running journey, as people come in all different shapes and sizes. You need to embrace the size you are, have confidence in yourself, have confidence in your ability to make the changes you want to happen, and just having the confidence that you CAN start your journey whenever you want.
If you want to finish, first you have to start."
~ excerpt from my new book, Just Finish!

You can continue to follow Sean's journey on Twitter and YouTube. Stay updated on his upcoming book release: @Just__Finish.