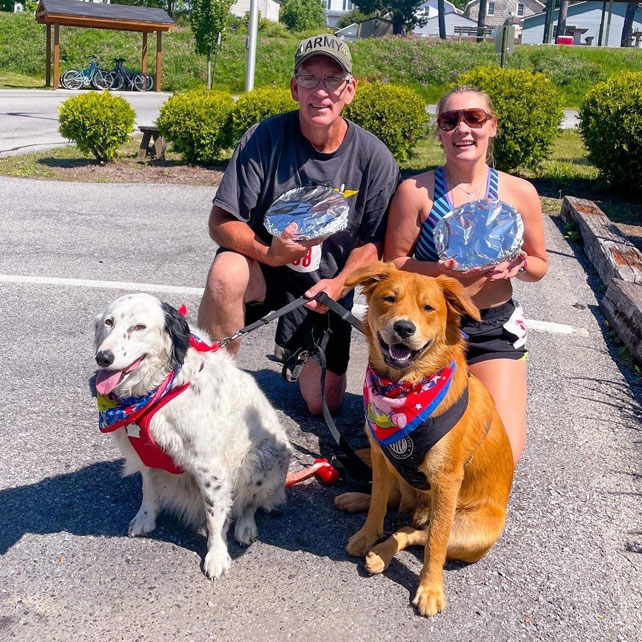 Why did you sign up to do this race?
I chose to do this race because my dad and I run the Ebensburg Homecoming Race every year! But I decided to do the longer distance because I wanted to challenge myself to be outside of my comfort zone!
How did you feel once you crossed the finish line?
When I crossed the finish line I felt a little sad because I knew that I had stopped training and running in general and I knew if I had stuck with it I would've hit my goals. But I also felt accomplished because I didn't quit. I kept going and finished which I think is the most important thing!
What would you say was the hardest challenge in this race?
The hardest thing was the mental aspect, it was hot and it was a down and back with an incline on the way back. But it wasn't a bad incline… It's just that I overthink it and always make it seem harder than it is.
What was the most rewarding thing about completing this event?
I think knowing that my parents and fiancé were waiting for me at the end helped me to push myself to keep going.
Was there anything or anyone in particular that helped you throughout your training?
Why are we as runners so hard on ourselves? What we do is amazing so why do we not take the time so appreciate it?
Any final words of encouragement and thoughts you'd like to share?
I am a firm believer that it doesn't matter if you come in first or last, running isn't easy so anyone who does it is doing something amazing and should be proud of themselves!
And finally, running can be so humbling. I went from constantly being last, to actually placing, and back to being last. But it's not the placing that I am proud of, it's the effort I give and in that race, I went in knowing it was going to be hot and that I was going to run the incline on the trail which are two things I struggle with. But I did it anyways and I am so proud of myself and the effort that I gave!