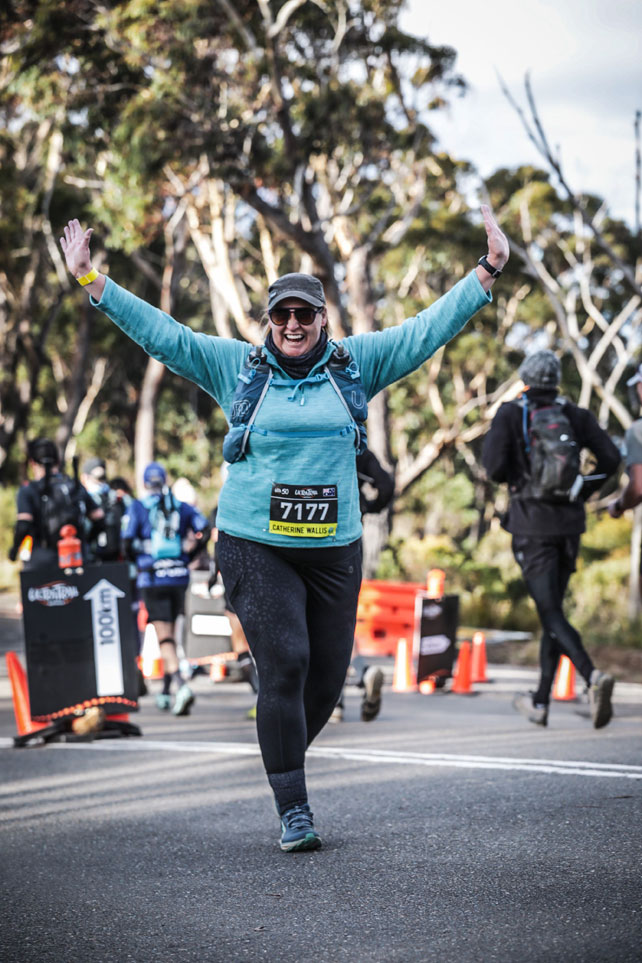 Why did you sign up to do this race?
Ultra Trail Australia 50km is probably the most famous trail run event in Australia. It is a beautiful but tough course through the Blue Mountains outside Sydney. I wasn't sure if I could complete it – but I felt I had to find out!
How did you feel once you crossed the finish line?
I was so very happy. And so very very exhausted! I was out there for 14hrs and we had sleet, wind and rain at various times. The last 4hrs I was in the dark. After you cross the finish line you have to go through a mandatory gear check to make sure you are carrying everything required and I'm pretty sure I was delirious.
What would you say was the hardest challenge in this race?
The stairs! There are 8800 of them in this event and at times they never seemed to end. I thought I had plenty of time, but I only made the half-way cut-off by 2 minutes so I really had to pull out everything to finish.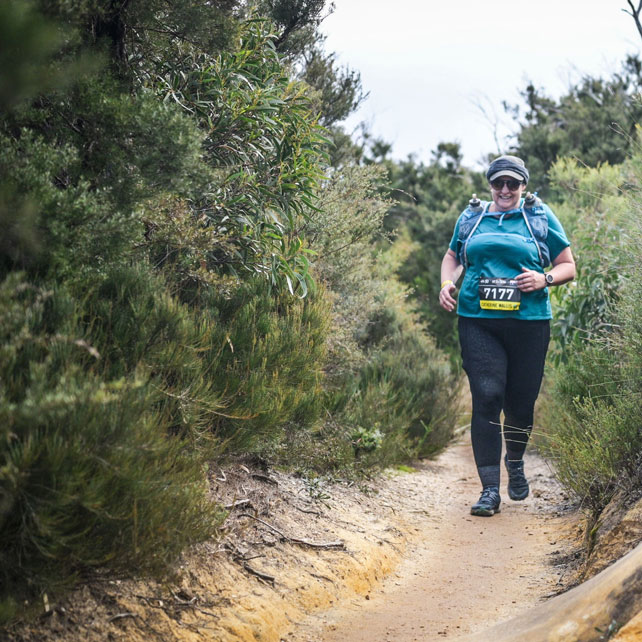 What was the most rewarding thing about completing this event?
Achieving something that I wasn't sure I could do. Knowing that I was pushed to my absolute limits and didn't give up. But also experiencing the kindness of others. The final 1/2mile of this event is up a steep staircase of 800+ uneven stairs. I was so very very tired and every stair was a challenge. At one point I said out loud that I didn't think I would make it – and a 100km competitor coming up behind me said "That's bull$%&*; I'll do it with you!" And he did. He encouraged me up those last 300 or so stairs. I will always be indebted to him, and I hope I can do the same for someone else one day.
Was there anything or anyone in particular that helped you throughout your training?
Definitely friends! And not just the friends that came out training with me (although they are AMAZING), but also the ones who checked in to see how I was doing, or helped me out with other tasks (eg kids) so that I could train. All of those people contribute to success and I am so grateful.
Any final words of encouragement and thoughts you'd like to share?
My motto is 'Living Life BIG in the body that I have'. I think that everyone deserves to live an adventurous life – whatever that looks like for you. Society is always telling us what we can't do, when in reality we can do SO MUCH more than we believe. We just need to face our own fears, train hard and give it a go.
The question I always ask is: What would you choose to do if you weren't afraid? There are so many amazing things that we miss out on in life because we fear failure. Or judgment. Or ridicule.
You can connect with Catherine on her FB page.