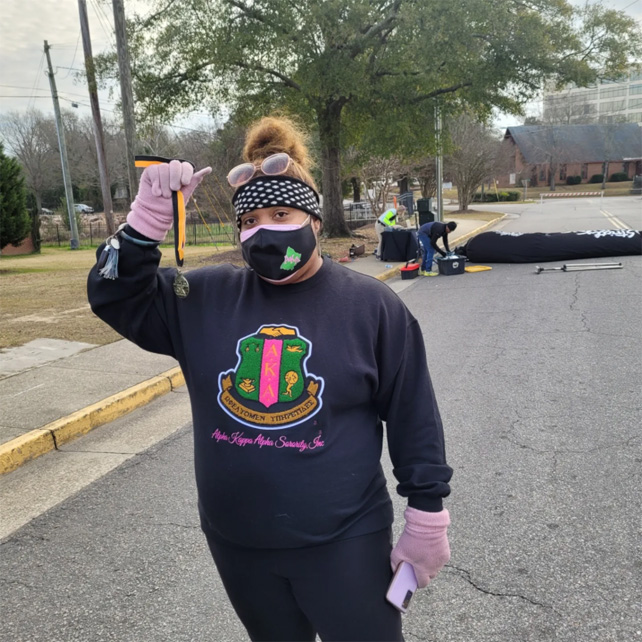 Why did you sign up to do this race?
My usual workout is kickboxing but due to the COVID-19 surge, I haven't been to the gym. Walking was something that helped me at the beginning of the pandemic and I've been looking for a way to stay active with an outdoor activity. My husband's fraternity chapter hosted their annual 5k race and I thought this was a great opportunity to join in.
How did you feel once you crossed the finish line?
I was so happy to see the finish line come into view. During the 5k, I lost sight of everyone in front of me. Two ladies that I started out with and finished before I did came up and met me to walk with me to the finish line.
There was a local high school ROTC group there to cheer on the runners crossing the finish line. I was overwhelmed that everyone was still there waiting for me to finish. My husband was waiting for me and cheering as he saw me approaching. Even though I was last, it felt so good!
What would you say was the hardest challenge in this race?
I was very intimidated by the more experienced runners in the race. I'm a plus-size woman who doesn't have a fast pace and opted to walk the race. There were other people walking but when I realized how much slower my pace was, I panicked a bit. I walked the entire race which further intimidated me. Staying motivated alone was also hard. It was cold and I just kept getting further behind the pack.
What was the most rewarding thing about completing this event?
I was proud of myself for sticking with it and finishing. I had contemplated just quitting so many times throughout the race but I kept pushing. Actually crossing the finish line was the most rewarding thing.
Was there anything or anyone in particular that helped you throughout your training?
My husband — he's my main motivator.
Any final words of encouragement and thoughts you'd like to share?
Believe that you can do it, do it for yourself and no one else — just keep pushing!