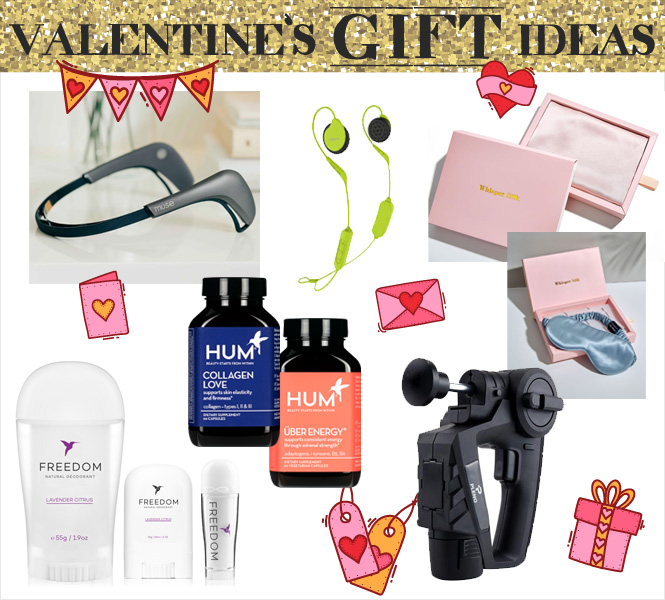 What to get your beloved runner or athlete for Valentine's Day? Here are a few ideas for ya. We like showcasing some rising products that are not as mainstream or lesser known but would be special and much appreciated.
Whisper Silk: Softer than cotton, their products are made from the finest 100% Organic Mulbery silk available. They
currently have 3 products in their line, all of which are gentle for skin and hair. And since we love packaging, theirs is simple but beautiful.
Pleno Massage Guns: Deep tissue massage therapy guns are all the rage this year. Pleno offers a quality product at a more affordable price compared to some other ones on the market. Many of their models are sold out but their M2.0 is still available at a pretty good price point. They are also currently running a special where you can get 75% off their 4-speed vibrating foam roller if you buy any massage gun.
Freedom: Started by a single mother after several of her friends were diagnosed with breast cancer, Freedom founder created an all-natural deodorant that now comes in several forms and fragrances. Their bundles would make great gifts.
Moonbow Versafit Wireless Sport Headphones: Dubbed as the world's smallest on-ear headphones, they lie thin and flat against your ears so you can still hear your surroundings which is a big safety factor for runners. They also fit under helmets for the bikers and triathletes out there.
Muse: There's an emphasis on self-care now and meditation is one of the ways we can nurture our well-being. Muse is the first tool in the world that provides accurate, real-time feedback on your mental activity while you meditate. It provides motivational challenges to encourage a regular practice with results showing a reduction in stress and increased focus, performance and relaxation.
Hum Nutrition: Imagine getting the consultation of a nutritionist virtually. Hum asks you to take a quick quiz about your nutrition profile and then you receive a nutritionist report with personalized recommendations based on your needs. Their products are natural and clean and you will still have access to your personal nutritionist for additional tips and questions.