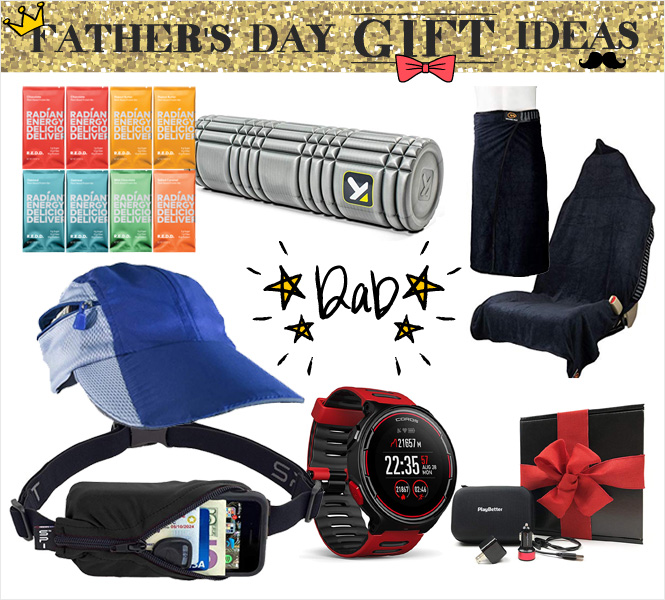 Psssst, dads like presents, too! Just wanted to throw out some gift ideas for your runner-centric, athlete, active dads or even those that are just getting started to a more healthy lifestyle.
Gone For a Run Ultra Pocket Hat: A technical, moisture-wicking cap that shields from UV rays as well as rain, it's perfect for just about any sport. It also comes with a zip pocket on each side that can hold things like keys, ID, credit card, gels and such to keep your pockets bounce-free. An added bonus is the reflective piping so you can be spotted in those evening or early morning runs.
TriggerPoint Foam Roller: Give Dad the gift of recovery. This roller really massages out kinks, tight muscles and soreness after workouts while also enhancing circulation and flexibility. For roller newbies, it also comes with free access to an online instructional video library where TriggerPoint experts demo foam roller techniques.
Coros GPS Watch Gift Bundle: For the techie dads out there who like to track their activity, this is a package made in heaven. (Plus, all the wrapping's been done for you!) Coros is one of the latest players on the GPS watch scene that is making waves for being fairly budget-friendly for its multitude of features and an incredibly long battery life.
R.E.D.D. Bars: Let Dad try the next generation of protein bars. These simple, plant-based energy powerhouses pretty much have it all: superfoods, vitamins, minerals, natural caffeine, probiotics.
Orange Mud Transition & Seat Wrap: Totally the gift that he's never thought of but won't be able to live without. It's a changing towel and car seat cover all in one. We know how dads like to keep their vehicles clean! Post workout, the belt & clip allows an easy change of clothes and then zip it up and slide over your car seat to keep it from sweat, stink and grime. He'll love the super plush microfiber, too.
Spibelt Running Belt: Fanny packs are back in fashion. 😛 But this one happens to work great for a run or other workout. Dad can stash all his essentials, including his phone, and be confident that the pack will fit snug, secure and stay in place. Plenty of color and pattern combos to choose from.
Some other suggestions:
– Gift certificates for a sports, therapeutic or foot massage or to try something new like cryotherapy or salt flotation.
– Subscription to a monthly food, fitness or lifestyle subscription box. There's something about getting a surprise in the mail! Here are a few worth trying out: ButcherBox (code AP10 gets you $10 off + free bacon), UrthBox (code URTHBOX10 gets you $10 + free box), Clean.Fit, Love with Food, JackedPack, Farm to People, The Keto Box
– Tickets to a concert or sports game
– Last but not least, just hang out together — go on a hike, grab coffee, ride bikes, watch a movie, get ice cream, work on a home project. Sometimes the best gift is just time… making moments & memories. 🙂